Parties to the United Nations Biological Diversity Convention have adopted the Kunming Declaration, as a two-day high-level segment of the 15th meeting of the conference of the parties to the convention, or COP 15, concluded on Wednesday.
A copy of the full text of the Kunming Declaration is available at this link: https://www.cbd.int/doc/c/0b20/847a/a9bf5b31366057821460aa68/kunmingdeclaration-en.docx
The largest UN gathering on biodiversity in a decade, COP 15 is tasked with elaborating on the post-2020 global biodiversity framework and identifying new protection goals through 2030.
It is being held in Kunming, capital of Southwest China's Yunnan province, from Monday to Friday, and will continue in the first half of next year.
Concerned that the ongoing loss of biodiversity jeopardizes achievement of the UN Sustainable Development Goals and other international goals and targets, "we declare that putting biodiversity on a path to recovery is a defining challenge of this decade", the declaration said.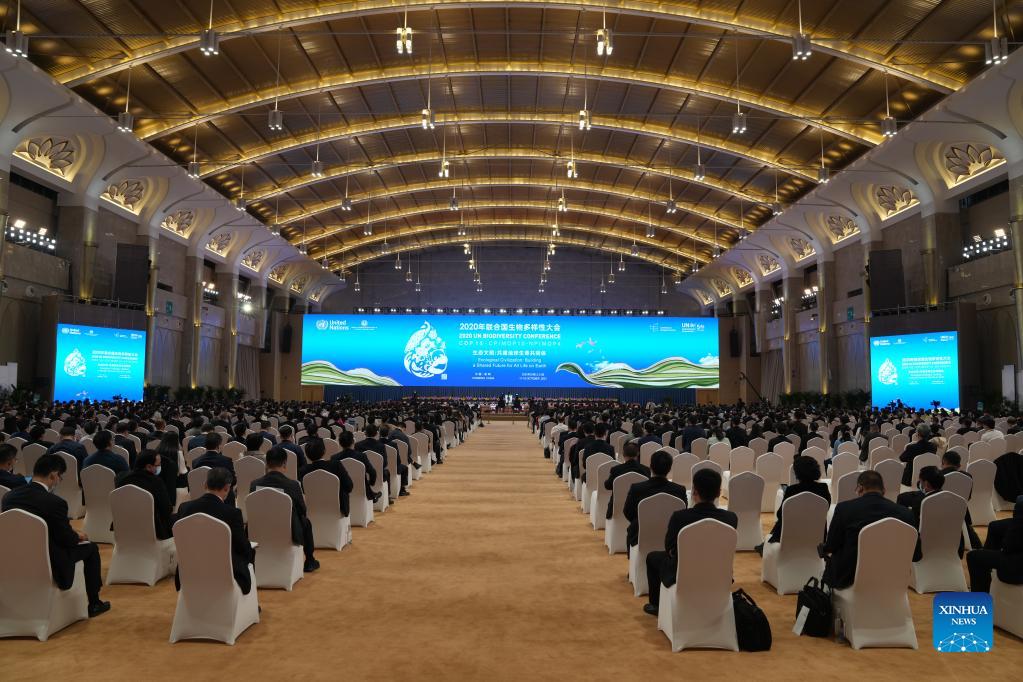 The declaration takes note of the call of many countries to protect and conserve 30 percent of land and sea areas through well-connected systems of protected areas and other effective area-based conservation measures by 2030.
It made a series of commitments on biodiversity conservation, with implementation one of the key points.
Parties commit to "ensure the development, adoption and implementation of an effective post-2020 global biodiversity framework."
The framework should include provision of the necessary means of implementation, in line with the convention, and appropriate mechanisms for monitoring, reporting and review to reverse the current loss of biodiversity and ensure biodiversity is put on a path to recovery by 2030 at the latest.
Parties also pledged to work across their respective governments to continue to promote the integration, or "mainstreaming" of the conservation and sustainable use of biodiversity in decision-making.
Efforts will be made to "reform incentive structures, eliminating, phasing out or reforming subsidies and other incentives that are harmful to biodiversity".
Another commitment included in the declaration is to increase the provision of financial, technological and capacity-building support to developing countries necessary to implement the framework.
Dimitri de Boer, chief representative for China of ClientEarth, an environmental law charity, said the main purpose of the declaration is to reaffirm the global political commitment to tackling the biodiversity crisis, and move toward agreement on the post-2020 global biodiversity framework.
"Perhaps most importantly, the declaration provides strong political commitment among all parties to continue to step up action now, without waiting for the adoption of the post-2020 framework," he said.
SOURCE: China Daily, 13 October 2021
http://www.chinadaily.com.cn/a/202110/13/WS616694efa310cdd39bc6eb10.html?fbclid=IwAR3qxvBv5De435QehQBZpUJMbCCzYfbQWqPoIqWJ6Iq0gqjPHErvH33UjRw