China and Russia have been stepping up energy cooperation during the first nine months of this year with bilateral energy trade reaching a new high, and the two sides vowed to further enhance energy cooperation in sectors like oil and gas, nuclear, petrochemicals and renewables.
Bilateral trade between China and Russia in the energy industry in the January-September period reached $34.9 billion, which accounts for 34.3 percent of the total bilateral trade between the two sides, data from the National Energy Administration showed.
Scale of electricity trade between China and Russia during the fourth quarter is expected to rise from the planned 700 million kWh to 1.64 billion kWh, according to the administration. Total power trade between the two sides this year is expected to reach 4 billion kWh, up around 30 percent year-on-year, it said.
An analyst said as the two sides vowed to strengthen coordination on global energy governance and climate change response, energy cooperation between China and Russia is expected to further enhance this year.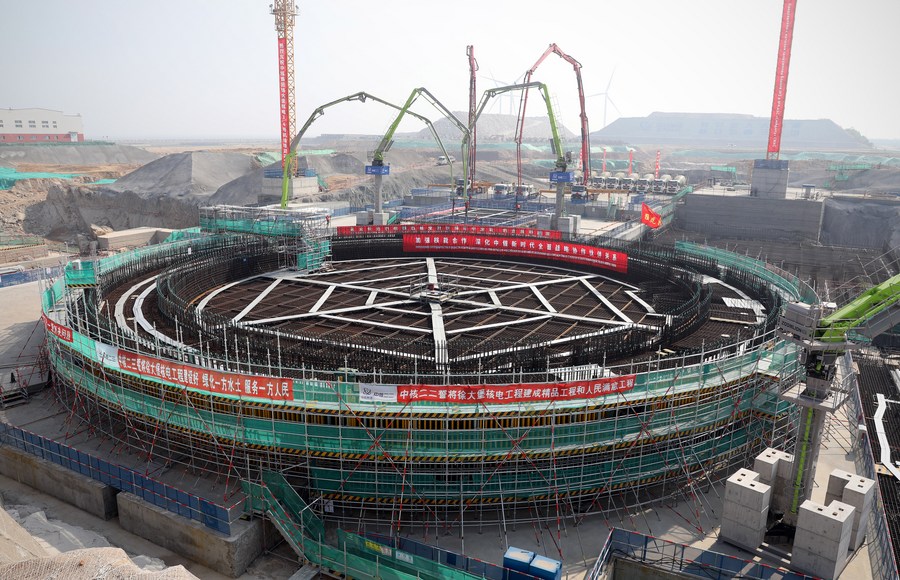 "Energy cooperation has expanded from oil and gas to the entire power sector, which is also a major breakthrough."
Luo Zuoxian, head of intelligence and research at the Sinopec Economics and Development Research Institute, said he believes natural gas will be a focus of cooperation. He said the two countries should promote more low-carbon cooperation projects and play a constructive role in achieving global sustainable development goals.
Liu Changxin, deputy director general of the business development and international cooperation department of China National Nuclear Corp, said China and Russia share broad prospects in nuclear cooperation.
Major cooperation between the two countries includes units 7 and 8 of the Tianwan nuclear power plant in Lianyungang, Jiangsu province, and units 3 and 4 of the Xudapu Nuclear Plant in Huludao, Liaoning province, the largest China-Russia nuclear energy cooperation project to date. These have made a significant contribution to China and Russia's strategic cooperation, and CNNC is willing to further strengthen energy cooperation with Russia, Liu said.
China and Russia pledged on Monday to strengthen bilateral energy cooperation to jointly uphold energy security as part of efforts to promote their comprehensive strategic partnership of coordination for the new era.
President Xi Jinping and Russian President Vladimir Putin made the pledge in congratulatory messages delivered to the third China-Russia Energy Business Forum, which opened online and offline on Monday, with sub-sessions in Beijing and Moscow.
Xi said in his message that since the start of this year, both countries have advanced overall strategic coordination and all-around pragmatic cooperation with new fruitful achievements while celebrating the 20th anniversary of the signing of the China-Russia Treaty of Good-Neighborliness and Friendly Cooperation.
Noting that energy is an important field for the two countries' pragmatic cooperation, Xi said the bilateral energy trade has increased despite the challenge of the COVID-19 pandemic.
The countries' major energy cooperation projects have made progress and they have expanded new areas of collaboration in an innovative manner, he added.
In the first three quarters of this year, China-Russia energy trade reached $34.9 billion, accounting for 34.3 percent of the total bilateral trade, according to the National Energy Administration. In addition, Chinese and Russian enterprises are actively engaged in cooperation in the oil and gas chemical industry, natural gas power generation, the transmission and distribution power grid, renewable energy, and scientific and technological innovation.
Xi said that the outstanding achievements in bilateral energy cooperation have demonstrated broad prospects for the development of the China-Russia comprehensive strategic partnership of coordination for the new era.
China will work with Russia to build an even closer partnership of energy cooperation, jointly uphold energy security and cope with the challenges of global climate change, he said.
Putin hailed energy cooperation between Russia and China, saying the countries' comprehensive strategic partnership of coordination for the new era is at an unprecedented high level.
SOURCES: China Daily, 2021-11-30.